The new season of MotorSport is about to beginning and with it one of the most popular animated series in the world. We're talking about the MiniDrivers, that through comics and videos shows you the funny side of races in Formula 1, MotoGP and Formula E.


These series started it all in 2008 and now is so pupolar worldwide, with a web address, merchandising and so much extra. Now Adaco, the spanish creator of the Minis is getting ready for his 9th season e spent some time with tuttomotorsport.com about past, present and future of his series and of MotorSport in general. Are you ready? So like Murray Walker said "The green lights are beginning to come on… AND IT'S GO! GO! GO!"


Andrea: For who doesn't know you yet present yourself and what you do:
Adaco: My name is Antonio but everybody knows me as Adaco. I'm the creator of three series called MiniDrivers, MiniBikers and MinEDrivers, that brings the highlights of F1, MotoGP and Formula E respectively with funny and cute cartoons
Andrea: You started the series in 2008 with Formula 1 and with the years passing through you got always more views and more popularity worldwide. Well can you describe us how were first years of minidrivers?
Adaco: I must confess that first years of the series were a bit hard, during those years I didn't had experience of animating and the resources that I had were bad, but every year that passed I got more experience and it was easier for me to make the chapters
Andrea: And now you're also one of the symbols in the Formula E, one of the new racing chanmpionship with electric cars! How do you feel knowing that more fans(including me) are starting to watch FE also for yuor videos?


Adaco: It's great to see that because when I had on mind creating the third series I had so many championships on mind, specially those from America, but I wanted to bet for something with future and I thought that Formula E was the best way because I saw it as a chance to show everyone that motorsport can be also "different" and it's a bet for the future.
Andrea: And talking about future you said that you're ready to sacrifize one of your 3 series for making one about IndyCar…
Adaco: Not at all, I said that in case that I would create another serie, what I would do is to kill another series because I can't hold more design and animation by myself.


Andrea: But tentamption is strong, isn' it?
Adaco: it's not a secret that I want to make an american series and share my cartoons to the other side of the world, but I can still wait for that.
Andrea: Ok, your fans still ask for more minis and more series but you always say that you don't have time. So, can you describe your situation?
Adaco: Every year that pass I have less time in my life due my work situation. I work at night at a hospital and every year I have more nights of work, something that means that I can't have time for more things, specially my social life, and the series always take me 3 days of my life (Sunday, Monday and Tuesday), imagine when I have to make 3 chapters the same week how I'm living, so that's why I said that I have less time, but the funny thing is that some people still don't understand if working at night, living my life and making the cartoons, how much time do I spent sleeping.
Andrea: Let's gonna talk about MotoGP: a great sport with great races and great battles that risks to be ruined for the "war" about Rossi and Marquez for the facts of 2015. Now i can call it a "forced peace" but the fact they involve also 2 great nations for Motorsport as Italy and Spain i ask what's your point of view about this?


Adaco: This is quite delicate because as a spaniard you can imagine my point of view. I won't lie if I tell you that before the "war" that started Rossi at the press conference before the Malaysian GP I wanted him to win the 10th championship, but watching how disrespectful was with the spaniards during that press conference I changed my point of view of him. For me Marquez wasn't trying to help Lorenzo (before that race) because during the Australian GP Marquez overtook Lorenzo and won the race, and if you want to help someone I think that you shouldn't be taking points that could be helpful for him, but I'm sure that after what happened in Malaysia and how some press from Italy was with Marquez, I'm sure he said that he didn't want to help who it was his hero and was now destroying his image and if he helped Lorenzo in Valencia for me it wouldn't be a problem because the same way the spaniards could help each other, we've seen how the Italian riders were helping each other too but it was something that it was clear that was going to happen. I was really sorry because for me there was a great battle during that season and I'm sure that if Valentino didn't try to make that campaign against the spaniards and focused on track, he would won the 10th championship.
Andrea: Surely that facts can't be forget so easily and the risk of a sport where you booying at who runs more thanm 300 km/h on 2 wheels(boos of our italian Tifosi when Lorenzo or Marquez get on the podium) is real?


Adaco: This is something that I also didn't like, but this was something that I was against since I started watching MotoGP in 2010. I remember the horrible year when Simoncelli passed away that after the French GP, when Marco crashed with Pedrosa, the spaniards here said that he was a murderer and they wanted his death, and I didn't like that because you never know what could happen, and now everybody is missing one of the greatest riders that Italy gave us on the last years. Now the same is happening with Marquez and it's something that I don't want to live again, but this is something strange here in Spain because there is a big rivalry between the spanish fans (Marquez-Lorenzo-Viñales and I include Rossi here), they don't like each other, but you can see here a huge respect when they are on track, and maybe they won't like if their rival win, but they will respect them, and it's something that people must watch.
Andrea: But some positive facts of MotoGP didn't miss from last year: for example the maiden wins of Ducati in Austria(Iannone) and in Malaysia(Dovi), the incredible win of Miller in a crazy Assen and the 2 wins for "banana-man" Cal Crutchlow at Brno and Phillip Island. What do you think?


Adaco: That was something that I loved and make motorsport special: different winners and an open championship. Maybe we know that the battle is always between Repsol and Yamaha, but watching another faces at the top of the podium is something which is always welcome.
Andrea: And now let's talk about Formula 1: we're talking after the first 2 days of 1st test done and Mercedes and Ferrari looks strong than others team for times and laps completed. What's your taughts after these tests that you're currently watching from Barcellona?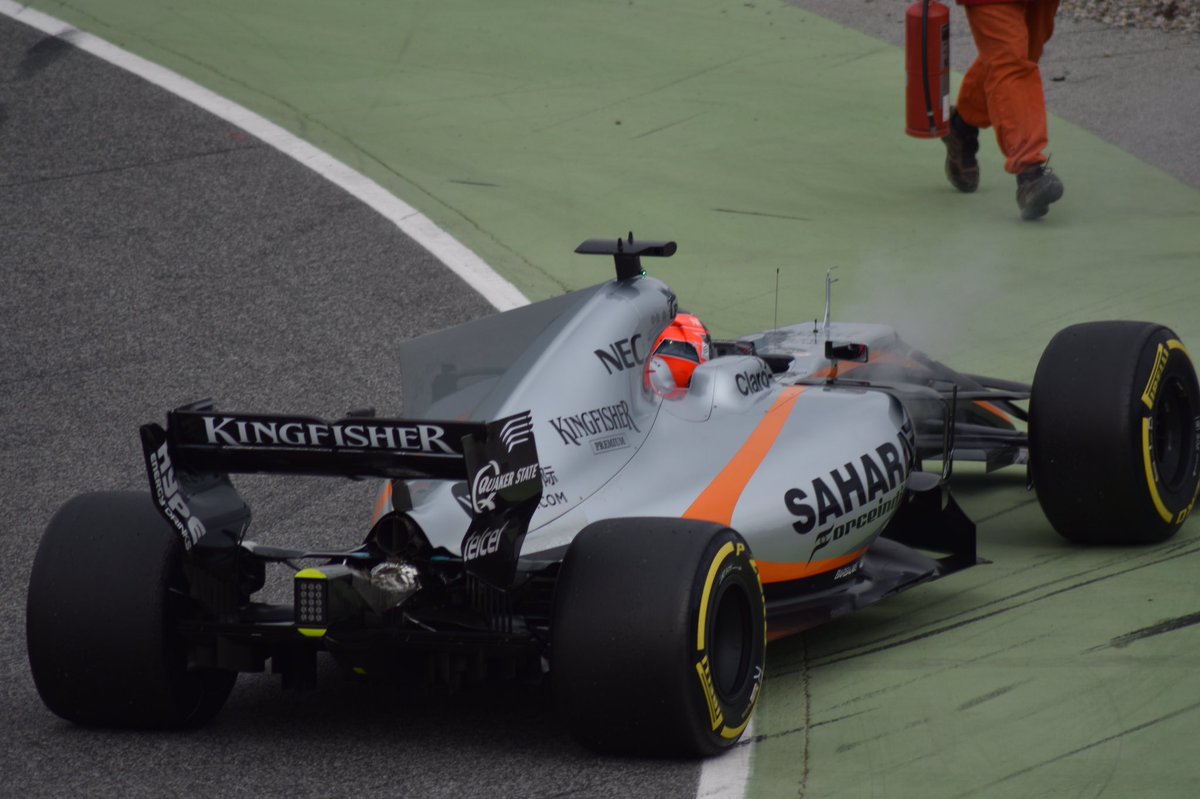 Adaco: That we shouldn't take conclusions about the test, everybody is trying different things, the only conclusion that we must take for now is that Ferrari and Mercedes has a great reliability with their engines, but we can't tell who is on top because everything can change next week, and again can change in Australia.
Andrea: But everybody hopes for great battles, great races but most of all… more than 1-2 team to fight for the championship. Can we expect this for 2017?
Adaco: It will be hard to say, and specially after two days of testing, but I think it will be similar to last years with a top team and the rest trying to catch them.


Andrea: Unless saying that your top team is a Silver Arrow, or no?
Adaco: Mmmm who knows. I'm sure that Mercedes is hiding more speed, but also Red Bull for me is hiding something because that shark fin it's not the one that they will use because a team that has special care of design that they cut the bull… it's something weird, and Ferrari who knows where they really are, but they look closer.
Andrea: Let's returning at the end on your series, because now you are doing also a historic one with the greatest races from 2000 in 2010 in F1 and MotoGP. It's called MiniVintage, we're gonna see more of this ones?
Adaco: Of course. For now there are still two more chapters and for next season people will decide which ones will be made in Mini version but like in this season, it will be between 2000 and 2010.


Andrea: Are you thinking to make historic races also for 90s years?
Adaco: Not for now, to make the 90s I have to make the full grids of those years, and as I explained, I don't have time to make that.
Andrea: Last question… How are you looking forward the future of your series? Because now you go also to the races and in the boxes in the paddock of the true racing teams. So what are your plans(you talked about a movie some time ago)?


Adaco: For now I will focus on this season, because next year the series will make 10 years, and for me it was the last year for MiniDrivers. I still don't know what will happen but if I continue going ahead I will like to make something bigger, but the movie, which was on mind, and it was the way to say goodbye to the series, was cancelled due the haters two years ago.
Andrea: That's all. Thank you Adaco!
Adaco: you're welcome.

All images are property of MiniDrivers(c), MiniBikers(c) and MinEDrivers(c). All rights reserved.